Description
Cleanse yourself of that sluggish feeling with It Works! Cleanse!  It's a gentle yet effective two-day cleanse that will reboot your digestive health and rebalance your system.  Created with plant-based nutrients, Aloe Vera, Chicory Inulin, Vitamin B6, Magnesium, and now Apple Cider Vinegar, you'll feel much cleaner, a little lighter, and totally back on track.
Good, clean fun starts with taking care of your gut health.
Get a clean slate with this wellness cleanse that uses plant-based nutrients to reboot digestive health and help maintain a healthy gut.  It's a two-day tune-up that's high in friendly fiber and comes ready-to-drink. What's the catch? There isn't one. This body cleanse even helps your system rebalance with vitamin-infused nutrients.  You'll feel much cleaner, a little lighter, and totally back on track.  Go ahead—this deserves a happy dance.
Features and Benefits
Supports liver detox, colon health, and a healthy gut†
Replenishes your body with vitamins, minerals, and nutrients
New and improved formula with Apple Cider Vinegar
Cleanses quickly, gently, and conveniently†
Non-GMO, No Artificial Colors or Flavors, Soy-free, Vegan, Keto-friendly
Directions
Adults: For two consecutive days, shake up and drink up one bottle of It Works! Cleanse before a healthy, well-balanced breakfast and dinner. Drink at least eight glasses of water daily.
Why is cleansing important?
It's important to be good to your guts. Your digestive system can be worn down by stress, anxiety, overindulgence, processed foods, and even general, day-to-day activities. By using It Works! Cleanse routinely, you'll gently remove toxins while replenishing nutrients†—it's the perfect way to maintain a healthy gut and find a fresh start.
How should I eat while using It Works! Cleanse?
It Works! Cleanse is most effective when it's supported with a healthy diet. Be sure to drink plenty of water—at least eight glasses per day—and eat light, fresh, unprocessed foods.
What are some of the key active ingredients in It Works! Cleanse?
Blue Agave Fiber – a gentle, slow-fermenting, prebiotic fiber that helps get things moving while limiting many of the harsh side-effects associated with other types of cleanses.†
Aloe Vera Leaf – helps nourish microflora and promotes cellular health in your colon.†
Lemon – rich with nutrients that support clean digestion.†
Ginger Root – helps stimulate your digestive system.†
Green Tea – aids in the cleansing process and is a beneficial source of phytonutrients.†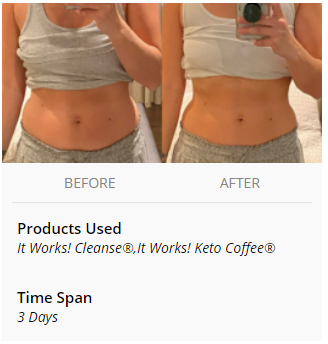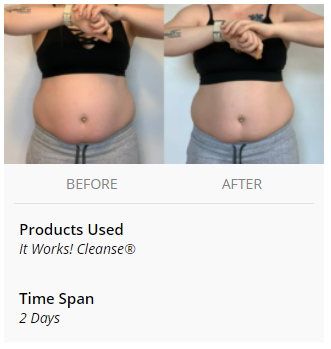 THE INDIVIDUAL IN THIS PHOTOGRAPH IS AN INDEPENDENT DISTRIBUTOR FOR IT WORKS!®
The success of this individual is not necessarily indicative of other success.
Results may be affected by a variety of factors, such as starting weight, body type, exercise and diet. These depictions are not intended to make claims that these products can be used to diagnose, treat, cure, mitigate or prevent any disease. Food supplements are not substitutes for a varied and balanced diet and a healthy lifestyle.